A Solution for Women with Fine or Thinning Hair
Statistics tell us that over 30 million women in America have serious concerns about fine and thinning hair. This hair does not only affect women externally, but has deep emotional and psychological effects as well. Hair is a woman's most versatile fashion accessory as it goes with every outfit she wears, from an evening gown to a night gown. It is a significant part of a woman's self-esteem and self-image and can be the difference between self-confidence and self-consciousness. So imagine the emotional trauma for women living every day with fine, thin hair. Until now, most solutions have been costly in both time and money, as well as highly ineffective. Many of these solutions require chemicals, glues, adhesives and surgeries, and take up to 6 to 8 months to produce any results (which are not guaranteed).
Today, however, women finally have a real solution that addresses not only the challenge of fine thin hair, but also eliminates all of the negatives associated with existing, less effective options.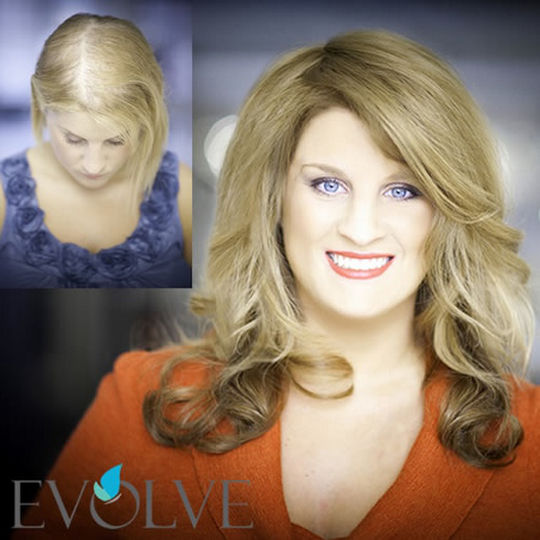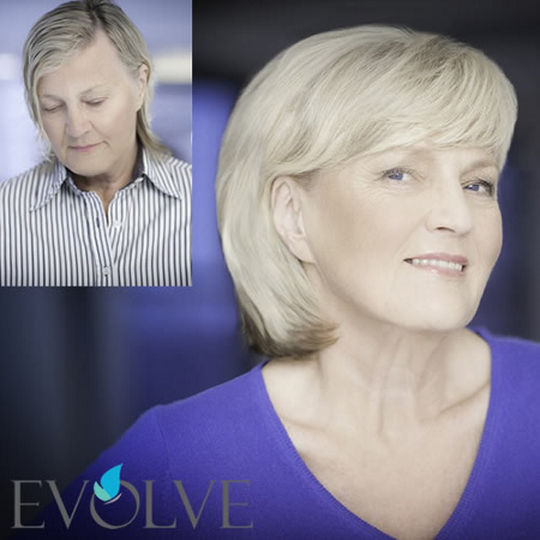 This Solution Is Called The Evolve Volumizer
The Evolve Volumizer is excellent for women with hair loss in the top or crown of the head. Whether hair loss is due to hormones, thyroid, pregnancy, menopause, diet, chemotherapy or simply being born with the thin hair gene, the Evolve Volumizer provides immediate texture, density, length and color all in a chemical-free environment. The Evolve Volumizer is a semi-permanent integrated hair system, not a wig or a hairpiece. The Evolve Volumizer may be worn up to 4-5 weeks before being uninstalled and reinstalled. The system is 100 percent human hair that is handtied to a poly-mesh, hypoallergenic, ventilated, lightweight base. The system is not hot, heavy or tight and may be cut, colored, low-lighted, curled with a curling iron, flat-ironed, heat roller set, braided, tucked behind the ear or even put up into an up-do for evening wear.
A woman may shower, shampoo, condition, style and even swim without removing her Volumizer. Basically she can live her life confident that her hair reflects externally her beauty internally. In addition, the Volumizer is undetectable by others and looks totally natural. No one will know.
The Evolve Volumizer is excellent for women with 50, 60 or even 70 percent hair loss when consulted with and installed by an Evolve Certified Stylist. The Evolve Volumizer should provide a minimum of 8 to 12 month durability with proper maintenance. The Evolve Volumizer is truly an emotional and physical transformation.
Take some time. Treat yourself. You deserve it.
COMPLIMENTARY EVOLVE CONSULTATION.